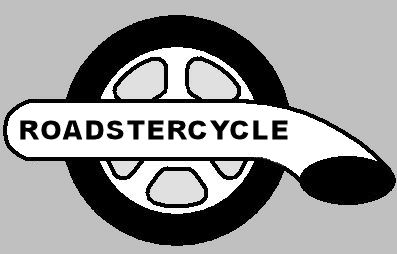 Mosfet R/R universal
mounting brackets
Shindengen FH020AA
regulator/rectifier
universal kit for almost
all 2 and 3 wire stator
motorcycles.
Reverse Gearbox for
motorcycle powered
vehicles and Legend cars.

Five wire stator, excited
rotor regulator build up
Do it yourself project

LED Voltage Monitor
FH012AA/FH020AA
and SH775
mounting dimensions
Vmax fuel injection
throttle body kit
Vmax Microsquirt
and Megasquirt
setup Instructions

'32 Roadstercycle®
Harley Powered

'34 Roadstercycle®
Vmax Powered


Recent
Projects
On Vacation from August 15 thru the 23rd.

Orders in that time frame will ship on the 24th or 25th.
depending how far I'm behind when I return. I will be
returning calls and emails if anyone needs help.

ROADSTERCYCLE.COM
Guys beware of counterfeit FH020AA and FH012AA R/Rs on Ebay
I can't even count how many of the fakes people are replacing with mine
after failures of the knock offs, so be careful. If your not sure send me a picture
and I can verify them. You can not buy a real Mosfet kit for $49.95, don't get ripped off.

I only sell real OEM Shindengen FH020AA and SH847 Regulators.

---
Home of the Original FH012AA, FH020AA, and now the SH847 Upgrade Kits
SHINDENGEN FH020AA, SH847 REGULATOR/RECTIFIER UNIVERSAL UPGRADE KITS FOR SPORT BIKES, CRUISERS, HARLEY DAVIDSON and BUELL, TRIUMPH, DUCATI, APRILIA, HONDA, YAMAHA, SUZUKI, KAWASAKI, BMW, KTM, and MORE!!

WHEN SOLDERING KITS TOGETHER USE THIN SOLDER , I USE .040 diameter solder

Click here for FH020AA and SH775 dimensions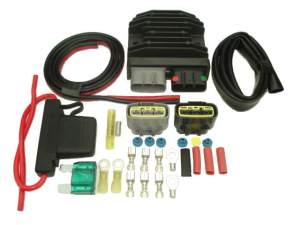 Complete Mosfet Kit FH020AA DIY crimp or solder kit!
I have real Shindengen R/Rs.

Universal FH020AA Kit with 30 amp Circuit breaker.

The DIY kit is a crimp or solder complete Mosfet kit with everything you need to upgrade your Sportbike or Cruiser to a Mosfet R/R. Crimping cutting, stripping, soldering, installing heat shrink is all done by you to build your own custom kit. Takes a little time but when you're done you'll have your own customized by you install. Very Cool!! Custom wire lengths are available. Now with PVC wire sheathing!!
Dielectric grease available below!! OK, if this is your first time soldering or your not real good at it, watch my video on soldering. Use thin solder, I use .035 or .040 solder so it flows easily. Make sure your iron on a real hot setting. If you need an adapter bracket to mount the Mosfet easily they are down below, scroll down. Mosfet dimensions are in the left side index so you can check if it is a direct bolt on replacement or not. Remember that stator leads can go any which way there is no polarity. Also, the wire I use is tin covered copper marine grade wire which solders awesome. It is not aluminum. Also take a look at my LED voltage monitors, they are awesome.



CIRCUIT BREAKERS ONLY AVAILABLE NOW.





$128.95 + $6.50 S&H USA
The Super Mosfet Kit is my #1 selling kit, Fast, Easy and complete.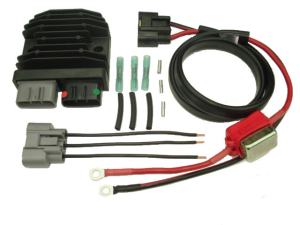 The Super Mosfet Kit FH020AA
Easy, fast and complete. As close to plug and play you can get.

FH020AA with Circuit breaker setup, now with PVC wire sheathing!! I do the crimping and soldering except your 3 stator wires. Ready to go with 3 feet of 10 gauge red/black wiring, 30 amp auto reset circuit breaker or Maxifuse, heat shrinkable butt connections and solder connectors for your choice of hookup to your stator. Custom wire lengths available. Stator wires are 12" Dielectric grease available below!! If you need an adapter bracket to mount the Mosfet easily they are down below, scroll down. Mosfet dimensions are in the left side index so you can check if it is a direct bolt on replacement or not. Remember that stator leads can go any which way there is no polarity. Also, the wire I use is tin covered copper marine grade wire which solders awesome. It is not aluminum. Also take a look at my LED voltage monitors, they are awesome.



CIRCUIT BREAKERS ONLY AVAILABLE NOW.





$149.95 + $6.50 S&H
MAKE SURE TO WATCH MY INSTALL VIDEOS, THEY HELP!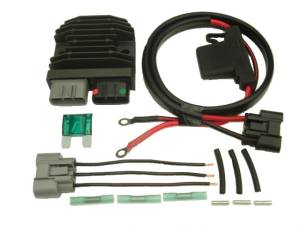 The Super Series Kit SH775 is no longer
available through me due to corporate greed.
Do yourself a favor and go with a SH847 as they are 50 amp and no high RPM issues and a much better unit.

OK, here's what's happening. The SH775 is out and the SH847 is in. The SH847 is a better and higher output higher RPM series R/R and now it's a better priced than the SH775. So since I won't buy into Corporate greed and pay double for the SH775. I am only going to supply Super Harnesses for you guys that source the SH775 elsewhere. The Harness is available below. The SH847 Super kit is also available below. Maybe in the future Polaris will bring the price back down if everyone sticks together and does not buy the SH775 for such a ridiculous price. It's not worth the price they want at this time. Jack


Click here for the Easiest Mosfet Hookup suggestion!!!


SH847 SERIES R/R KITS ARE NOW AVAILABLE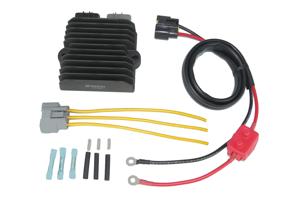 This is the newest R/R from Shindengen, the same people who built the FH020AA and FH012AA so you know the quality is there. These are 50 amp peak models that have been tested on the Rotax motored Buell and Aprilia models and have been working great. They have been running these on the 600 Ducati with no issues. These are scarce but I have a pretty good line on them now. They go fast. Again remember I can can make these harnesses any length, check the highlighted areas above for
add on wire lengths for battery and stator. Battery wires are 36" and stator wires are 12" that come in the stock kit.

I am only selling SH847 only as a Super kit as this R/R is very expensive and I don't want any issues due to old or bad charging system wiring. I want to make sure this setup is rock solid in every way. The dimensions of the SH847 are as follows. 1.5" thick, W 4.75" x L 4.75" Bolt holes center to center 4.0" Bolt holes are 2" from the non-connector side end.
Remember that stator leads can go any which way there is no polarity. Also, the wire I use is tin covered copper marine grade wire which solders awesome.
Also, if you order a SH847 I bench test them all before they leave the shop. The SH847 and shipping is expensive and there is no returns so I make sure everyone is solid before I send them. Suzuki will not accept warranties from me or even their own dealers. So if you buy a SH847 from me you can be sure it's ready to go! Also take a look at my LED voltage monitors, they are awesome.

A lot of people are calling these the stator savers. The series R/Rs do run the stators cooler so in essence they do help with stator heat build up. All race bikes or track days bikes should have series R/Rs if your unplugging the headlights, not so much for the stator on these but because of the excessive heat build up that happens in the stock shunt type R/R. If you ever watchd a motorcycle race on TV and you see a bike on fire or smoke coming out it's usually a fried R/R.


CIRCUIT BREAKERS ONLY AVAILABLE NOW.


THE NEW SH847 SUPER KITS ARE $199.95
plus $9.85 shipping and insurance.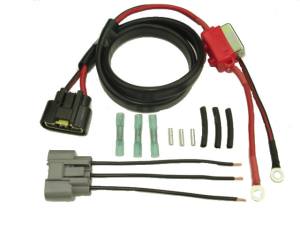 Super harness with 30 amp circuit breaker.

Comes with both crimp and solder connectors for stator. 3 feet of 10 gauge red/black flexible wire and PVC flexible wire sheathing. The easy way to upgrade your stock harness. Remember that stator leads can go any which way there is no polarity. Stator wires are 12" long. Custom wire lengths available.

Custom Yamaha FJR 1200 harnesses also available. You can order the FJR Harness in the drop down list at the bottom of this window. It has 6 feet of battery cable, 50 amp circuit breaker. Does not come with the stator side because it's not needed. Most FJR riders are saying there's about a 1/2 volt increase at the battery. It does not sound like much but it is. The FJR Harness is also $49.95 plus S&H $6.50.

For FH020AA, FH012AA, SH775 and SH847.

Dielectric grease available below!! Also, the wire I use is tin covered copper marine grade wire which solders awesome. It is not aluminum.

Custom lengths available above in the add on section $49.95 plus $6.50 S&H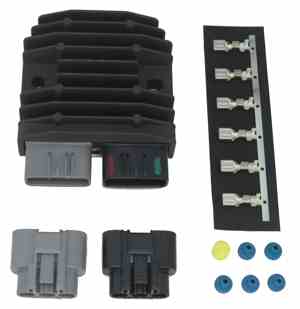 FH020AA Regulator/Rectifier with connector kit.

For the do it yourself quickie wiring hookups. If your stock harness is good and you trust it, this will do the job for a Mosfet or SH775 upgrade. Do it once and do it right. Dielectric grease available below!!

$118.95 plus $6.50 S&H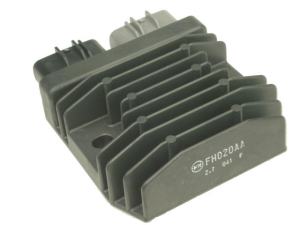 FH020AA Mosfet Regulator/Rectifier

Mosfet Regulator/Rectifier only.
Straight from Shindengen these are the Best selling upgrade R/Rs on the planet. The FH020AA is what Yamaha uses on a number of their motorcycles. The Yamaha P/N is 1D7-81960-00-00.

Do you need connectors? If your not replacing an exsisting FH012AA SH775, or a FH020AA you'll need connectors.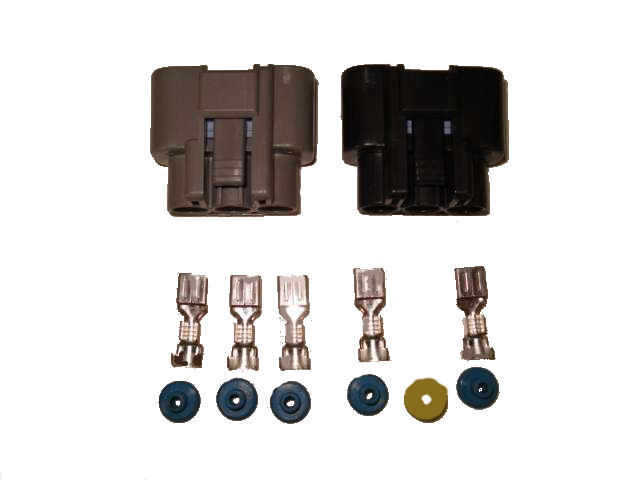 Connector kit fits all the
FH08AA, FH012AA, FH020AA, SH775 and the new SH847 series R/R.
These are proprietary connectors and terminals for the above regulators.
Dielectric grease available below!!

$19.95 plus $3.00 S&H



SIX PACK TERMINALS
Fits the Mosfet, SH775, and SH847 Gray and Black housings.

$4.50 Free shipping USA

ORDER ONLY WITH KIT PURCHASE


.99 cents ea. Free shipping of course when added with any of my kits.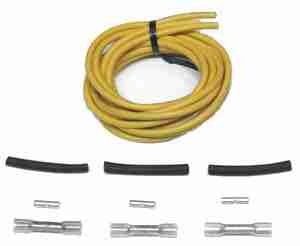 STATOR WIRING EXTENSION

Includes 3, 3 foot sections of 12 gauge yellow wire and crimp and solder connectors and heat shrink. Ships free and only available with a Mosfet kit or installed when ordering a Super kit with extension purchase. I install it for the least amount of connections. Also, the wire I use is tin covered copper marine grade wire which solders awesome. It is not aluminum.
Mosfet Kit Add On Only $9.00
EVERY MOTORCYCLE FROM THE FACTORY SHOULD HAVE A VOLTAGE MONITOR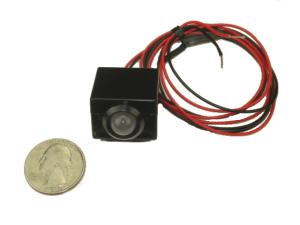 LED VOLTAGE MONITOR

YES, these monitors are completely water proof, the little square box I put them in is not sealed but all the electronics are sealed great. Comes only in white case, leave it or paint it.

This is a HOT item!!! This should be stock from the factory on all motorcycles. . My new units have been re programmed for either Shorai or stock battery use. It has the over voltage warning now at 15 volts to warn guard against killing a Shorai battery or boiling a stock battery, best of both worlds in one unit. White case only. I put the LED in the square case with a strip of double sided tape myself for ease of mounting, if you do not want the Led glued into square case so you can drill a hole and mount it in your dash or ? I can do that too. Just let me know and I will send you just the LED and mounting ring without the square case. You have to tell me or it will come glued together in a square case.


$23.95 + 3.00 S&H USA





$1299.95 plus shipping with 2 couplings to build off of.




Here is the latest straight through gearbox. These are custom made by me per order and are about a 2 to 3 week waiting period. I build these myself in the USA. They have a planetary set up with a 1 to 1 in forward and about a 1.5 to 1 in reverse. I've torqued this configuration up to over 500 lbs with no issues. So I am rating it at about 200 lbs of torque for a good safety margin. It's built with motocycle motor powered vehicles in mind. Since these are a new product all will be sold as experimental units and use at your own risk. I guess that's the disclaimer. It will come with 2 splined couplers for you to attach your setup to. You do have to do your own engineering as I'm way too busy building to do extra engineering unless you want to hire me for consulting which I may be open too. The shafts are 1.25" diameter. Splined or 1/4" keyway is available. The outside covers have 5/16" though holes for bolting the gearbox in. The box is 6" square and the bolt holes are 5" spacing on each corner. $100 deposit through Paypal is acceptable to start a box. Finished payment will be a Postal money order or cash. If you would like a unit email me and I will send you an invoice for the $100 deposit. If you need more info you can call me or email me. USA only sales for awhile. Jack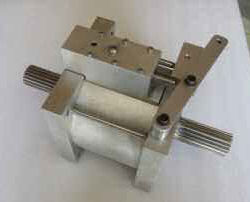 _______________________________________________________________________________________

SHAFT IN SHAFT REVERSE GEARBOX
Ok everyone it's been coming for awhile now and we are finally getting ready to get these moving. I tried unsuccessfully for months to find a company in the USA to build these from my design with no luck. So we are finally tooling up to do them oursevles. I am in the process of building up some prototypes and will be selling these to people who want to be test pilots for them. The boxes will be dual 21 tooth sprockets standard and ratios will be changed at your front sprocket or rear wheel gear. The input sprocket will be always 21 or custom bigger and the output can also go bigger. These will be custom order and will have a few week lead time as they will have to be sent out for broaching which I have no time control over. So if you are interested in one of these new units email me to be put on the list. Also the outside sprocket is movable, closer to the input gear or further out for wide tire applications. The unit body is about 6" square and about 12" total from end to end. There will be a couple shifter options for matching your design and mounting configuration needs. We should be shipping in June. Any questions just send me an Email.

You tube Video here: https://youtu.be/7Q7yFT_ehVU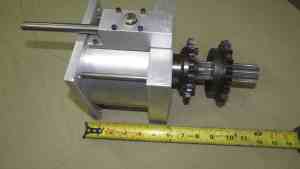 This is a Fleming Engineering custom design and is in the patent process so please don't think copying our design for resale, it's not in your best interest.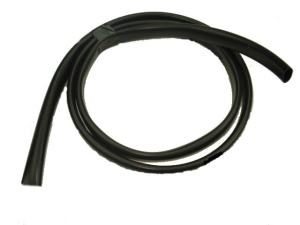 1/2" PVC Sheathing
Sheathing now comes stock with all my kits, except the series kit and now I'm making it available for your custom applications too. This is something we all need for our bikes from time to time but it's just not easy to find at a moments notice, and of course if your like me I needed it yesterday. So here it is 1/2" ID. which I find is perfect middle of the road wire covering. Sold by the foot and shipped free its in stock and ready to go. US sales only. Jack
$2.00 a foot with free shipping. 3 Feet minimum order.




Crimp & Go Kit $128.95

The newest kit from Jack is the Strip, Crimp & Go. I am not an advocate of using your old harness to upgrade to a Mosfet regulator but some people need this and who I am to say no. If your harness is on a new bike, or is in tip- top condition then this kit will work great for you. You just cut off your old stator and battery connectors and strip the wires and install the heat shrinkable connectors on your stock wiring making sure you have good solid crimps. There is no directions in the kit. You just strip, crimp and go. This kit is fast and easy but you have to do it right. 12" wires on both. Remember that stator leads can go any which way there is no polarity. Also, the wire I use is tin covered copper marine grade wire which solders awesome. It is not aluminum.
You can not order extra wire length for the Crimp and go kit. Also take a look at my LED voltage monitors, they are awesome. FH020AA Mosfet only with this setup.

$128.95 + $6.50 S/H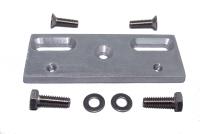 MOSFET R/R SUPER ADAPTER PLATE

I am now offering a universal mounting bracket for the ShindengenFH010AA, FH012AA, FH020AA and SH775 regulators. Also the SH847 bracket is now available. Comes with bracket and stainless mounting hardware. The bolts I enclose are metric #6 x 1.00 mm counter sunk. These fit most metric bikes. If these are not your size you will have to provide them. I also provide 1/4" threaded mounting bolts and washers for the Mosfet mounting. I personally build each one in my shop on my milling machine in the USA. These are made with 1/4" aluminum flat bar. You can trim if needed for ultimate weight reduction. The 2 way is 1.5" x 4.00. slotted hole spacing can accept from 1.875" to 3.40" center to center of bolt, spacing. Now also the new Super adapter plate with center hole will let 2006 and 2007 GSXR 600 and 750 owners be able to mount there Mosfet or even a stock R/R around the corner instead of behind the radiator. It comes with spacer and hardened bolt and locking nut to move the R/R to a better and cooler airflow area.

Below is the new 06-07 GSXR 600-750 Bracket and hardware. This bracket is new and is experimental so use at your own risk. I designed this as a simple easy install, the hardened through bolt is better than grade 8. Use removable blue lock tight to install. If you want to be a test Pilot for me let me know. I don't have a GSXR so I built it the best and lightest possible for street and racing. You can mount it 360 degrees if needed.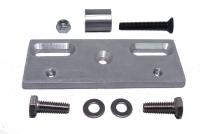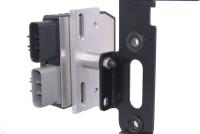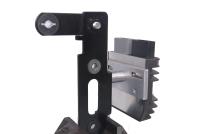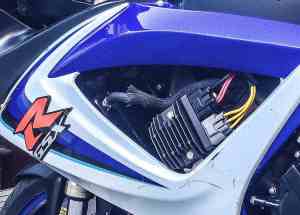 This is the new GSXR side mount bracket (above) install on 06/07 600 or 750. Out from behind the radiator out into the air. The bracket will work with either the 06/07 GSXR lead link found below or any of the Super kits or Complete kits.



Stock mounting $19.95 plus $3.00 S&H
GSXR side mount $23.95 plus $3.00 S&H

SH847 mounting $21.95 plus $3.00 S&H

If you buy a kit and a bracket you will not be charged shipping for the bracket.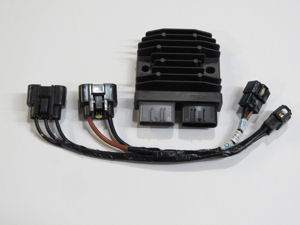 Triumph T2500676 Harness
and FH020AA Package for many Triumph models and Ducati models.
Look at the connectors and see if it they will work on your model.


This is a T2500676 adapter harness for a direct plug and play for the Triumph Triple. It may fit other Triumphs a.but you'll have to check your connector ends and see. An avid Triumph owner told me it is the same connector found on a lot of other Triumphs. Also this works on numerous Ducati motorcycles also. Check the forums .The picture of the ends should be a good indication of what it will fit. On some Ducati models the ends plug in but no locking feature. Some guys pull the old plastic connectors off the stock old R/R and put them on the Triumph lead link to get the lock back, others just use a plastic tie wrap. Either way the upgrade is well worth it for the Ducati bikes. Adapter brackets available above.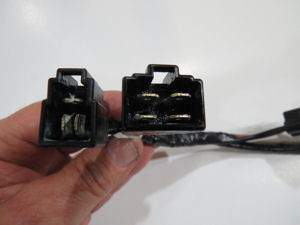 $114.95 plus $6.50 S&H USA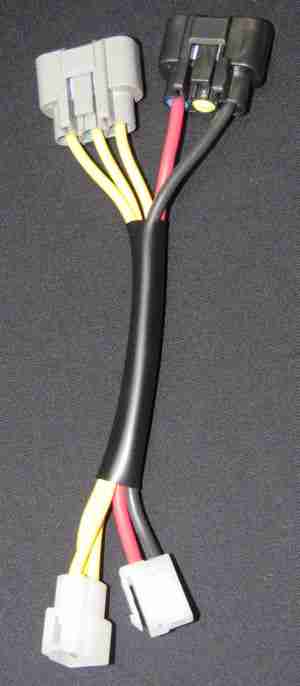 HYOSUNG LEAD LINK PACKAGE

$128.95 + S&H =$6.50 USA
This is the new HYOSUNG leadlink package with a

FH020AA Shindengen R/R INCLUDED !!
From what I understand this harness will work on about all Hyosung models, but of course you need to match you bikes connectors to my photo to be sure. Be sure before you order. These harnesses I build up so the price is a little higher than the Triumph lead link which comes to me assembled. Choose below either the FH020AA which is working on all the Hyosung bikes we have put it on. If you want to try a SH775 which is still in the experimental stages you can order it but make sure someone has tried it on your make and model, there is no returns on these as they are experimental still. If your not sure then order the FH020AA it has a great track record and I have them all over the world on a lot of Hyosung models. The leads are 12" long. Jack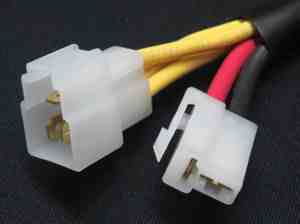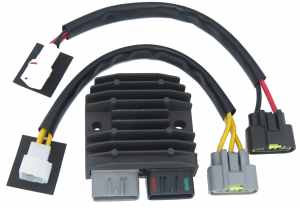 2006-2007 GSXR 600/750 Lead link



This is a custom made by me to help the GSXR 600 and 750 guys easily run a Mosfet or SH775 R/R. It may fit other Suzuki models and only time and feedback to me will make the list grow. Also available is my adapter plate for moving the R/R around the side away from the hot exhaust. The leads are about 12" long so side mounting with my bracket is a breeze. You do not need to order an extra foot of red/black battery cable for a lead link. $128.95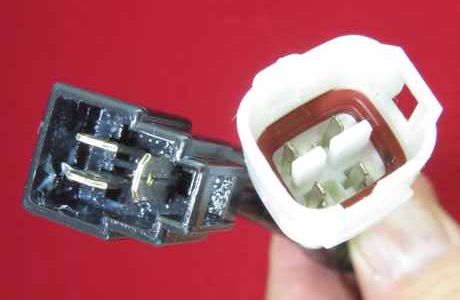 Check and match your connectors to the picture on the left. The square hole in the connector is the positive side 2 terminals. If you have another model Suzuki this may work for you but you have to check and make sure. The black connector is the same as the white connector in the other picture above.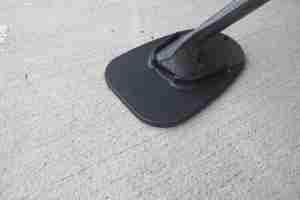 FINALLY SOMETHING NEW THAT I'VE NEEDED MANY TIMES

KICKSTAND PADS
I have needed one of these many many times and I've used sticks, cardboard, a piece of aluminum, a beer can, a pop can, the list goes on and on. Well I finally found these and bought a bunch to be able to send them in kits to everyone cheap.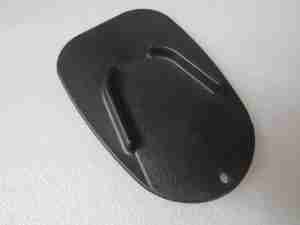 As Henry Ford once said, "Any color you want as long as it is black". So if you need one of these for those dirt parking lots, a soft asphalt lot on a hot day or even a cheap gift for a fellow biker here they are. They are injection molded and very solid, built here in the USA . Just add to cart and I will ship it with your kit. If you want a few e-mail me and I will work something out for you. I can ship up to 3 in a one kit. to make life easier.

$3.99 ea. with kit purchase.



______________________________________________________________________________________________


______________________________________________________________________________________________


Yamaha, Kawasaki, Suzuki, Triumph, Honda, Ducati, SV650, Aprilla, Ducati and many more!
Finally fix your single phase 2 wire and three phase 3 wire charging system problems with a new Mosfet voltage regulator upgrade kit!

Even if you buy a Mosfet somewhere else I will help you out with tech support.
jack@roadstercycle.com
Click here for the Easiest Mosfet Hookup suggestion!!!
Click here for stator testing page.......
Click here for FH012AA dimensions


A WARNING TO PEOPLE CONSIDERING COPYING ROADSTERCYCLE DESIGNS
All drawings and prints of the Roadstercycles have been copyrighted by Fleming Engineering


The proprietary steering and rear drive is property of Fleming Engineering
With over 14 years invested in the design, we will not take imitations lightly and we will prosecute .

Shindengen is a trademark or copyright of Shindengen America and or other countries.


ROADSTERCYCLE® is a registered trademark owned by Jack Fleming
V-Twin Roadstercycle, V-Four Roadstercycle, '32 Roadstercycle, '33 Roadstercycle
'34 Roadstercycle, Roadstercycle.com are Trademarks of Fleming Engineering/ Jack Fleming

*Harley Davidson and Twin Cam are trademarks of Harley Davidson *
Yamaha V-max is a Trademark of Yamaha Motor Company
Megasquirt is a trademark of Bowling and Grippo


All pictures of the Mosfet and other regulators with Roadstercycle.com applied red and green dots or red and green stripes are Trademarks and Copyright of Jack Fleming / Fleming Engineering and Roadstercycle.com these distinguishing marks are Trademarks applied by Jack Fleming to help customers and to separate other competing and copying websites from pretending to be Roadstercycle.com 4/28/16

Copyright 2007 through 2017 JackFleming/FlemingEngineeringRoadstercycle.com