All International orders are shipped with insurance so "NO WORRIES"
unless you email me to go inexpensive!!!

Email me if you need help: jack@roadstercycle.com

MAKE SURE YOU CRIMP AND SOLDER ALL CONNECTORS

If you have a 2 or 3 wire stator found on most Yamaha, Suzuki, Kawasaki, Honda, Triumph, Ducati motorcycles just to name a few, this upgrade may be the answer you've been looking for.
Out of country shipping is now $45.00 with insurance Express Mail
Email me for a quote for Canada or Mexico
or you can go inexpensive also, email me.




This kit has been working on about 99% of all the bikes people have upgraded, 2 wire and 3 wire stators. The exceptions are older Honda motorcycles and some Moto Guzzi with 5 wire stators in which 2 of them are for brushes. Around 1983 Honda CB 900, and CB 1000. Since I do not have one of these bikes myself, I can not check it out personally to be able to figure it out. If anybody has already figured it out I would sure like to talk to you and find out how to hook up the brush wires so I can pass it along.... OK somebody sent me a email with a suggestion for the 5 wire bikes. Click here to see it.

I get a lot of calls and Emails about using your old harness that goes from the old R/R to the battery. My answer is don't use it! just unplug it and tape the end off so it can't touch any type of ground and ty rap somewhere safe. It will still get power from the battery side if there are other systems that use it in the bike. Use the new 10 gauge wire I send you to go from the new Mosfet regulator to the battery, put in a maxifuse the equivalent size of the one that was originally in your bike. The problem is that if you use your old harness any issues that are in that old harness, like bad connections, bad solder joints, bad grounds, etc will just defeat the purpose of upgrading your charging system. Lets do this clean with all new connections crimped and soldered and you will have a bullet proof charging system.

Hi everyone, I've been reading some forums and for some reason a few people think that just because the MOSFET regulator upgrade kit works awesome, you now can add all kinds of lights, radios, sub woofers, power amps etc. OK I'm exaggerating a little but you must understand that your stator can only put out so many amps. The Mosfet is good for 50 amps but if your stator is only good for 30 amps that's all you have!!!!! period!!!! The MOSFET doesn't create magic voltage it only regulates what you have and really well. So all you will do is overload your stator and possibly burn it up, so be careful.....Jack

Many early motorcycles are plagued with charging system problems, I actually owned a few so I know from experience they had charging problems. It wasn't until I started upgrading a Yamaha V-max did I discover the FH012AA Mosfet fix. It all started when I installed my fuel injection system on my '34 V-max powered Roadstercycle I went through many changes trying to run add on fuel injection, an extra headlight, and an extra tail light. The headlights bulbs where changed from two 55 watt H4 to two 35 Watt H4 bulbs. The tail lights, running lights and turn signals where changed to leds. It helped but still did not do the trick. Next was the high output stator, I believe that was totally useless, a little change but not what I was looking for, 13.8 to 14.2 volts that was my goal. It wasn't until someone told me about a Mosfet regulator that my luck began to change. I took the time to install one and I was blown away by the results. Before my best charging voltage I could get was 13.6 volts with no headlights about 13.2 with. Now I get 14.2 volts with the headlights on, around 14.4 with them off. I was so jazzed by this that I tracked down the connectors and regulators and made up a kit so other people with this problem can cure their charging problem. So as long as your stator, battery and wiring check out good this should do the trick. Go to my page on checking out a stator, do this before you purchase my Mosfet upgrade kit because if your stator is bad my kit won't help. On a stock bike you will probably have to relocate the new Mosfet regulator to a new place. You will also have to do a little easy wiring. The new kit comes with power and ground leads you just have to cut to your desired length and install the battery terminals. Then connect these to your battery. Just unplug your old connector that goes to the battery and leave it , just make sure it is not able to touch anything to create a spark! Tape or heat shrink it. You will have to cut the end off the original stator connector that plugged into your stock regulator and replace it with the one provided. This is pretty easy, you just have to crimp on 2 or 3 terminal ends depending on your stator, single phase is only 2 wires and 3 phase is 3 wires. (crimp and solder). The terminal ends are for 10 gauge wire and the stator wires around 14 gauge so strip them twice as long as needed then fold the end back on itself to make better connections, I would solder them also. They are 3 same colored wires, yellow, white or whatever. Connect the 3 wires in any order as in Fig. 1. If you have a single phase 2 wire just connect the wires to 2 of the terminals in the gray connector. My wires are yellow. The red and black 10 gauge wires will go directly to the battery with the circuit breaker installed in the Red cable between the battery and the Mosfet. The less connectors the better, they fail more than anything. I read more forums about burnt up connections more than any other thing. The 30 amp auto reset circuit breaker now comes with kit. Remember to crimp and solder, crimping alone is not enough to make your upgrade last for years to come.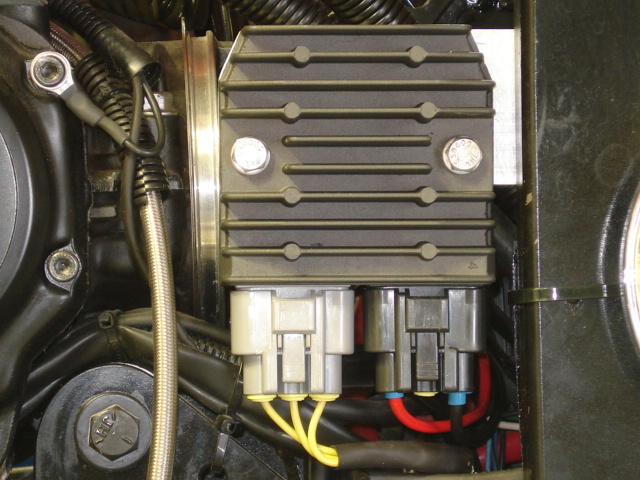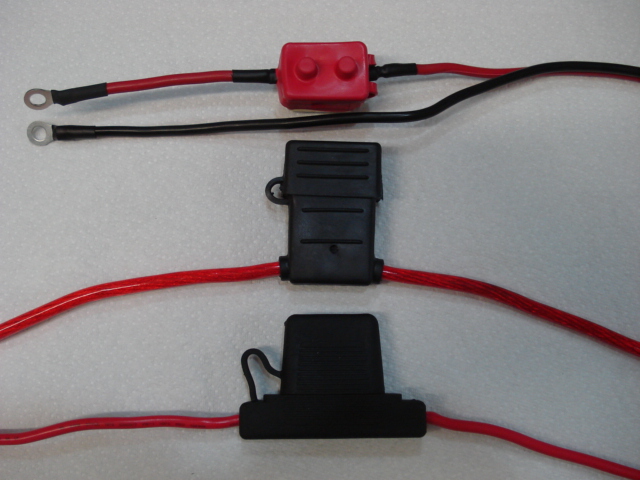 Fig. 1

Circuit Breaker vs. Maxifuse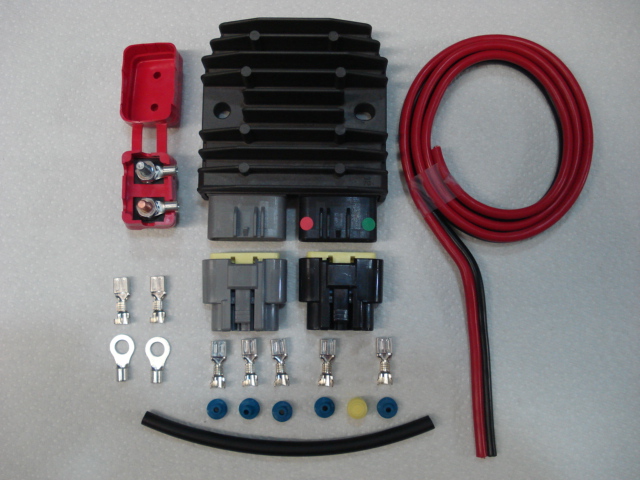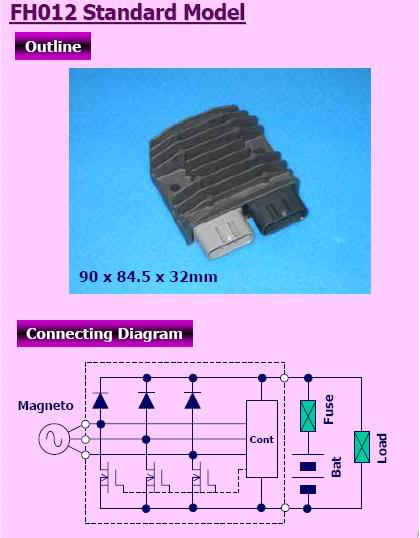 Email me: jack@roadstercycle.com
Phone 1 (310) 766-5222
If you want to send a Postal Money order I will ship as soon as I get confirmation that it cleared

.

Jack Fleming
17252 Hawthorne Blvd. 222
Torrance, Ca 90504

Copyright 2007, 2008, 2009, 2010, 2011, 2012 Jack Fleming