Check out the Roadstercycle home page.
High performance 3 Phase Series Regulator made for Roadstercycle.com by the leading Series regulator manufacturer in the U.S.A. A series regulator is the only way to go when racing. Takes the load off your engine and puts it where you need it, on the race track. Easier on your stator too. For Harleys, Buells, Suzuki, Yamaha, Kawasaki, Honda and most other Asian Motorcycles and European Bikes.

Series Regulators.
Out of Country sales, please be aware although warranty issues are far and few between it's your responsibility to pay for return postage to Cycle Electric in the USA. They are great about warranty so that's not an issue.
The CE 605 SB, 50 amp rated 3 phase series regulator is backed by a 2 year manufacturer warranty. I've searched for a series regulator to compliment the FH020AA Mosfet Regulator and finally found a U.S. built grade A unit. I was not satisfied with the Competitors 3 phase because of my research and finally found the Cycle Electrics. It comes with 5 ft positive and negative battery cables and 5 ft stator wires to be able to trim to your custom length, wrap, or solder and heat shrink or install your own mating connector (you supply) for a perfect match for your bike. In my kit is a 30 amp auto reset circuit breaker and all necessary terminals and heat shrink to do a bullet proof install. So if your heart is set on a series regulator for your Sport bike or Cruiser I now have them available. As you see in the picture below, the series unit is bigger than the Mosfet and also weighs mores 2 lbs. 5 oz.. But that's what it takes to build a great series type regulator that will last. It has 4 countersunk mounting holes that take 1/4" allen screws. The mounting screw center to center dimensions are 2-5/8" x 4". Questions? jack@roadstercycle.com Evenings after 5PM Pacific time call: Jack 310-766-5222.
These series regulators have to be in the airflow so get them out in front if you can. Don't put them under your seat or tail section they need cooling.
The CE 605 SB Kit. $169.95 plus $7.00 Priority 2 to 3 day shipping in the USA. Email me to purchase this, it is a special purchase item and not always in stock as they are very popular. Series kits do not come with sheathing. Jack@roadstercycle.com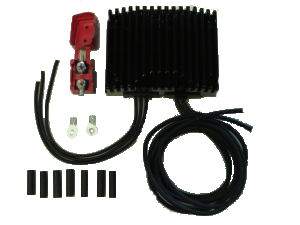 CE 605 SB Series type regulator for a serious upgrade and racing applications. Unplugging your headlights on race or track days won't burn up your charging system like stock shunt type R/R. USA sales only on Series regulators.