Copyright by Fleming Engineering 2008-2013
Vmax Megasquirt/Microsquirt setup Instructions

This is the setup for the '34 Vmax Roadstercycle using batch fire injection and the CV to TBI kit.
4 into 2 headers and 4 air cleaners or pods as some people call them. CAUTION: Although this works great in on my configuration you may have different header flow and air cleaners. If so, this may not be the perfect air/fuel mixture for your motor but will get you close so you can fine tune it with a laptop or palm pilot data logger program. It can be found on the Megasquirt website just scroll down to the Palm section. The engine constants will be identical as in Fig.1. ** Don't be confused about the cylinder selection as only 2 cylinders instead of 4. After many hours of experimentation and data logging this is the best way to set up the Megasquirt or Microsquirt to work the best on the Vmax odd fire engine. If you have time to experiment and find out something better please share with all of us. Email me and I'll give it a try, if it works better I'll post it here and give you the credit. Remember Microsquirt and Megasquirt are always called experimental systems by the creators of them. So I feel as they feel, be careful, have fun and be safe.

KEEP A MINIMUM OF 2 FIRE EXTINGUISHERS NEARBY, YOU ARE WORKING
WITH HIGH PRESSURE FUEL AND IT IS DANGEROUS!

WARNING! WARNING! WARNING!
REMEMBER THIS IS FOR SETUP PURPOSES ONLY. YOU MUST DO SOME SORT OF DATA LOGGING OR HAVE A SEPARATE AIR/FUEL METER TO VERIFY YOUR FUEL MIXTURE IS CORRECT FOR YOUR
ENGINE SETUP!
IF YOU RUN LEAN YOU WILL BURN UP
YOUR MOTOR!!!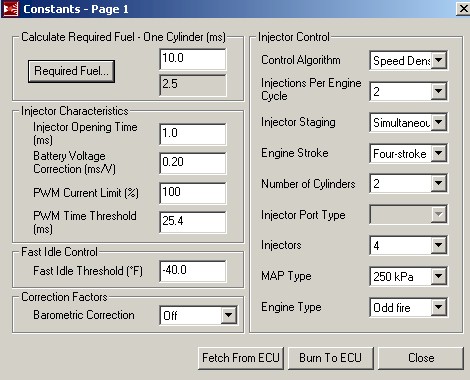 Fig. 1 **

I used a narrow band heated O2 sensor.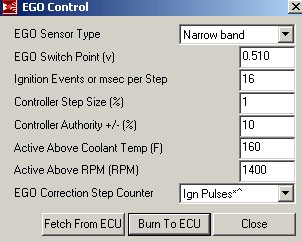 Below is my VE table, it does not mean that yours will be the same.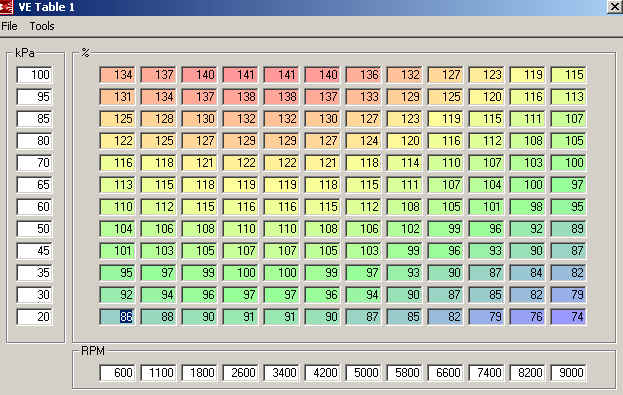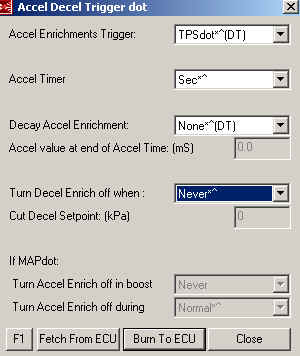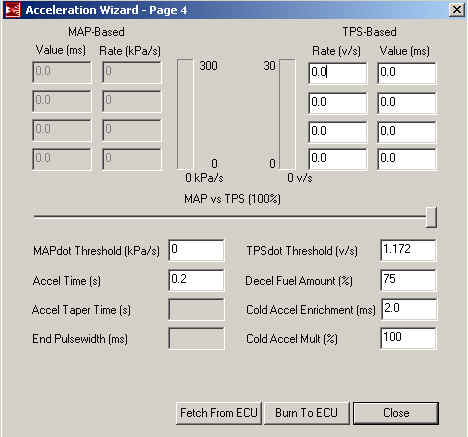 Since I'm only using injection I shut everything off as seen below.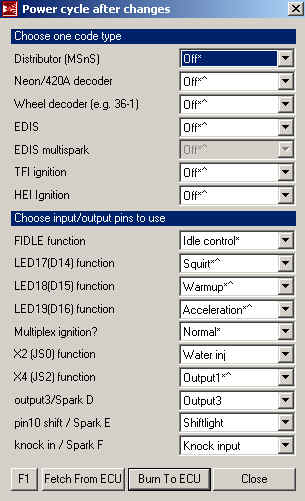 GOOD LUCK AND BE CAREFUL.
Experimentation is great, just don't burn up you motor!